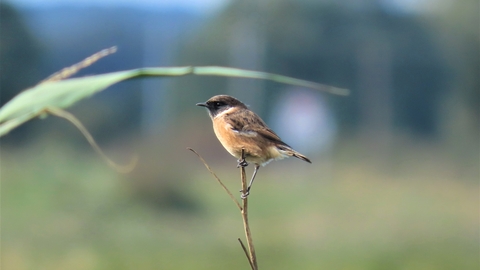 Online talk: Stonechat research at the Great Fen
Join Henry Stanier for an insight into the ecology of stonechats and how they are using habitat created at the Great Fen restoration project.
About the event
Stonechats are present throughout the winter at the Great Fen and have been selected as a focus for monitoring. The birds are slightly smaller and more slender looking than robins, with clear differences in colouration between males and females. Males have black heads and a white collar around the neck, with a bright orange breast and a mottled brown back. Females have a brown head and back, with an orange tinge on the chest. They have a call that sounds like two stones being tapped together, hence the name 'stonechat'.
Records of these birds, in winter, are widespread in the Great Fen restoration land, and birds are often seen from trails, such as the Dragonfly Trail at New Decoy, and the Last of the Meres Trail (including the Northern Loop). Birds can been seen hovering, hummingbird-like, over reeds and small shrubs in the ditches of the Fen. Studying these fascinating birds adds greatly to information on how wildlife is using the Great Fen and its variety of different habitats.
Booking
Price
Wildlife Trust members: £2.50
Non-members: £4
Suitable for
Adults