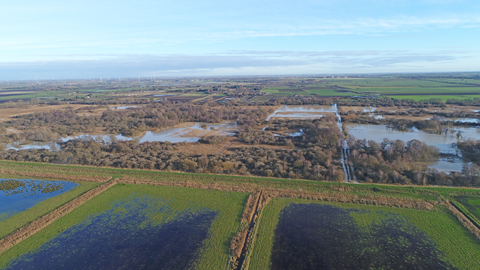 The Great Fen, Progress on the Peat
Location:
Online event,
Broadcast by Wildlife Trust BCN
It's the 20th anniversary of the 'Big Idea', as it was originally known. The dramatic winter flooding kicked off a fascinating year. Find out more about this wetland for the future, and it is more than just a wetland. Find out what will be happening in 2022, the anniversary of the first land purchased, at Darlow's Farm. All with the latest stunning photographs and wildlife videos.
Event details
Date
About the event
Henry is the Wildlife Trust's Monitoring and Research Officer at the Great Fen, with the responsibility to design, deliver and refine a full programme of monitoring at the Fen, including training volunteers in ecological survey skills. A dragonfly, bat and dormouse expert, as well as a bird ringer, Henry set up and ran the Trust's Ecology Groups prior to moving to the Great Fen six years ago. 
Booking
Additional booking information
All welcome but advance booking only. To reserve a place on this Zoom meeting please email: Jp.doody@ntlworld.com. This event is free but donations to support the work of the Wildlife Trust for Bedfordshire, Cambridgeshire & Northamptonshire are welcomed. Details of how you can make a donation will be provided in a booking confirmation email.

As places are limited we request that you only log-on from one device per household for the meeting and don't share the 'Join Zoom Meeting' link that will be sent by email approximately one hour before the event.

For more information contact Alistair Grant, HLG Events Organiser on Telephone: 07775 365507 or Email: alistairrgrant@hotmail.com.
Suitable for
Adults, Experts, Beginners
INFORMATION ABOUT ZOOM: 
We are aware that not everyone will be familiar with using Zoom to view online talks. Hopefully, the information below will be of help and provide some reassurance. 
Using Zoom: 
Although the meeting can be viewed via Zoom on a smartphone it is preferable to use a computer or laptop. You don't need to download Zoom onto your computer as you can access the meeting through your internet browser. 
After reserving a ticket you will be sent a 'Join Zoom Meeting' link by email approximately one hour before the event. To view the online talk you simply click the link 5 or 10 minutes before the meeting starts. After entering the password provided in the email you will enter the virtual meeting where the presentation will occur. You can then watch the presentation live. If you wish to ask a question you can do so in Q&A breaks just like in our normal events at Brampton Memorial Hall. More details on how to do this will be provided in the email sent before the event. 
Donate
Thank you for signing up to attend our online talk, organised and hosted by the Huntingdonshire Local Group. If you would like to support the Trust and give a donation, please use the donation box below. 
By donating, you are helping us to support local wildlife. Together we can ensure nature can be enjoyed across our three counties for generations to come.
Donate to the Wildlife Trust BCN
Help us support local nature