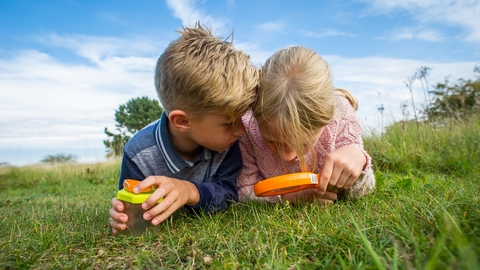 Brilliant Beetles - family fun 'whodunnit' mystery!
Location:
Paxton Pits Education Centre,
Paxton Pits Education Centre,
Cambridgeshire,
PE19 6ET
Which beetles pollinate flowers? Which beetles are ferocious predators and which beetles...eat dung? Family 'whodunnit' mystery fun!

About the event
Come along to hunt for beetles by sweep-netting, pond dipping and looking in cow pats! Meet these unsung heroes of the natural world and discover more about what they do and also what you can do to help them!
BCN member and non-member tickets available both with and without take home packs. Take home packs will include the brand new 'Bring Back our Beetles' guide!
Join us for outdoor family fun which has also been designed to be socially-distanced and covid-secure! We will provide you with your own dedicated, marked area and own equipment. Whilst other families potter nearby, you can use the materials provided especially for your family. You will also be sent to the meadow for sweep-netting and to the ponds for dipping!
Please read all of the important information below.
The outdoor session will run for one and a three quarter hours. Please come through the front gate promptly from up to 15 minutes before your session begins, to allow you to take your position in your special area. In order for staff to undertake the necessary extensive cleaning and re-setting of equipment, families MUST depart promptly at the end of their timed session.
You will be assigned your own activity area and cleaned toilet cubicle and tap for the duration of your visit.
A maximum of five households* can book onto one time slot, once this occurs further tickets will be removed from the system. Please note all adults need to follow two metres social distancing between households whilst here and be based in their separate activity stations (except for toilet visits, sweep-netting and pond dipping). This applies even if you know another family.
*(As Eventbrite cannot manage this our staff will manually remove tickets, to avoid more than five households booking onto a slot. Please contact Debbie with any queries about ticket numbers on the email below.)
All activities will be outdoors so wear long trousers (important for sweep-netting) and sensible shoes with closed toes and do bring raincoats. As the site is exposed sunhats and suncream are very important too. Bring a blanket or two as we will end up working on the ground for these activities!
Please book a ticket for everyone who is attending, as those without a ticket will not be admitted.
Please be aware all litter/recycling will need to be taken home with you. It is a good idea to bring with you a flask of drink and re-useable bottle pre-filled with water as we are sorry we will not be able to provide drinks here.
FOR THE SAFETY OF EVERYONE INVOLVED YOU MUST NOT ATTEND this event on the day if you or anyone in your household has symptoms of coronavirus - a high temperature, a new continuous cough or change to your sense of smell or taste. Please also do not attend if you have a sore throat, headache or diarrhoea these can also be symptoms. Please do not attend if you have coronavirus, or have had in the last 14 days. Also if you live with someone who has symptoms, is waiting for a test result or has tested positive for Covid-19 in the last 14 days or if Track and trace have informed you, you have been in contact with a person who has coronavirus, do not attend.
Sorry no dogs are allowed in the Environmental Education Area.
To support the UK Government track and trace initiative we are collecting contact details at the time of booking. Any contact information you give will be held securely and will be used if needed for track and trace purposes. It will be securely destroyed 21 days after your visit.
Booking
Price
Wildlife Trust BCN members £6:00 per child plus booking fee to include take home pack
Non-members £8:00 per child plus booking fee to include take home pack
Wildlife Trust BCN members £5:00 per child plus booking fee excluding take home pack
Non-members £6:00 per child plus booking fee excluding take home pack
Suitable for
Families
Know before you go
Dogs
Sorry no dogs (except guide dogs) in the grounds/at the event.
Mobility
Please call Debbie in advance to ensure we assist with any mobility elements if necessary.
Wheelchair access
Please call 01480 473161 or 0773 447 8475 and Debbie will ensure parking and advise further
Hearing loop
No
What to bring
Wear sunhat and suncream. Please note the site is very exposed in places with little shade. Please also wear old clothes, sturdy shoes and bring a raincoat. Long trousers are essential, as we will be sending you to the meadow to sweep-net. All activities are outside. Bring refreshments and snacks. Adults to bring facemasks to wear in the toilets. Bring a blanket.
Parking information
Please park in the main car park opposite the Visitors Centre and please be aware the road outside the education centre is used all day by haulage lorries accessing the quarry so please keep children close on the way to and from the car park.
Bicycle parking
Bring bikes into the grounds and also bring a lock.