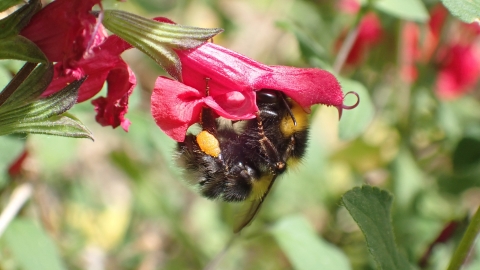 Online Introduction to British Bumblebee Ecology and Identification with Ryan Clark
Location:
Online event,
Broadcast by Wildlife Trust BCN
An introduction to British Bumblebees, ecology and identification
About the event
Join Ryan Clark, Northamptonshire's Bees, Wasps and Ants County Recorder, as he introduces participants to the fascinating ecology of bumblebees and guides participants through the identification of the most common species found in Britain.
If you have trouble using the booking link below, you can book via the Eventbrite page here.
Booking
Price
£5 BCN Wildlife Trust members, students and volunteers
£7 to non BCN Wildlife Trust members
Additional booking information
Attendees will be sent a Microsoft Teams Live link to join the workshop, along with any handouts required.
Suitable for
Adults
Contact us
Juliette Butler (Tuesdays, Wednesdays and Fridays 9am - 2.30pm)
Online training workshops coming up...