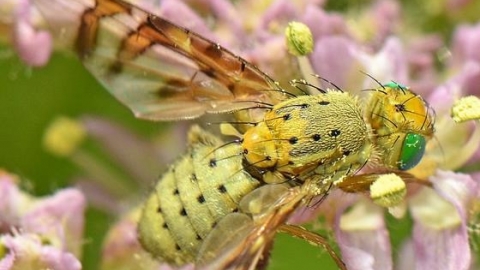 Wildlife Training Workshop: Identification of Picture-winged Flies with John Showers
Location:
Sulehay Road, 0.5 miles west of the village
Yarwell Village
Northamptonshire
PE8 6PA,
Stamford
This workshop introduces the main families of picture-winged flies and how to identify them.
About the event
Picture-winged flies is a loose term that refers to several families of fly that have patterned wings. This course introduces the main families involved and will mention other families that might cause confusion. The families covered are the Tephritidae, Ulidiidae, Opomyzidae and Pallopteridae. Many of these are associated with grasslands, scrubby areas and some with marshy areas. Most species have distinctive wing and thoracic patterns, so with care can be identified in the field or from good photographs. 
The Tephritidae cause galls on a number of plants, especially members of the Asteraceae, and so are a good group for botanists to study. The Ulidiidae are fairly diverse and contain Northants' only red data book fly, the very distinctive Phoenix Fly  Dorycera graminum. Opomyzids and Pallopterids are associated with grasses and frequently turn up in sweep nets when surveying grasslands.
No prior knowledge of flies will be assumed.
Booking
Price
£40 Standard
£20 Students
£115 Professionals
Additional booking information
Participants will receive further information, including a programme for the day and location details, nearer the time.
Suitable for
Adults
Know before you go
Mobility
Please discuss with training workshops officer if assistance required
Wheelchair access
Please discuss with training workshops officer if assistance required
Hearing loop
Please discuss with training workshops officer if assistance required
What to bring
Further information will be sent to participants nearer the time