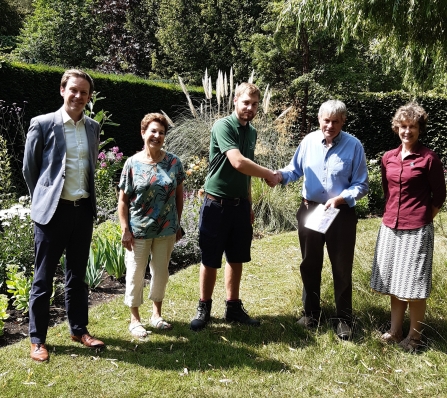 Wildlife Trust BCN's Wildlife Gardening at Work Awards 2019
Winners Announced
Our Wildlife Gardening at Work Awards encourage and recognise companies and their employees who make a difference for wildlife at their place of work.
Thank you to everyone who took the time to enter this year's awards; it was wonderful to see so many people get involved with helping wildlife at work. We received lots of fantastic entries including wildflower and herb plots, meadows and feeding stations, plus creative uses of space set up with wildlife in mind which help a wide variety of species thrive. As well as giving wildlife a home, these initiatives are also a great way to give your staff an opportunity to work as a team and enjoy being closer to nature.  
The standard of entries was very high, so huge congratulations go to each of the worthy winners for their fantastic efforts. Winners were awarded copies of the Wildlife Gardening for everyone and everything written by Kate Bradbury in association with the RHS and the Wildlife Trusts and published 2019 by Bloomsbury Wildlife.  Thanks to our Judge, Bernard Hunt of Hunts Wildlife Landscapes for judging these awards and coming along to present the prizes our winners: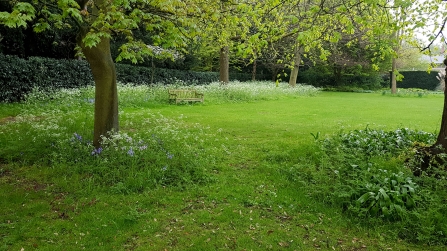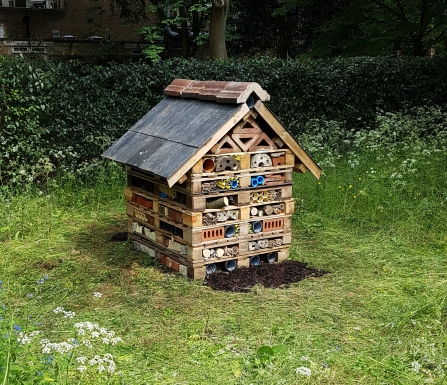 Downing College Cambridge scooped the award for Best Wildlife Garden at Work 2019. Since last year's highly commended entry, staff have worked hard to implement a host of new features and improvements for wildlife such as meadow areas, feeders and diverse planting. The college demonstrates a real commitment to creating an environment for the benefit of the whole college community, as well as the visiting and residential wildlife.
Downing College also won the category of Best Use of Recycled Materials for Wildlife at Work.
Their beautifully crafted bug hotel perfectly shows that objects can not only be given a new lease of life, but can also be incredibly useful. The attractive structure would complement any outdoor space and will no doubt support a wide variety of insects.
Jack Sharp, Head Gardener told us: "We are delighted to have won two awards, which serve to highlight our commitment to create an environment which has a positive impact for our Fellows, students, and everyone who visits. We will continue to develop and use environmentally friendly practices throughout the Gardens and Grounds department and make improvements to the site."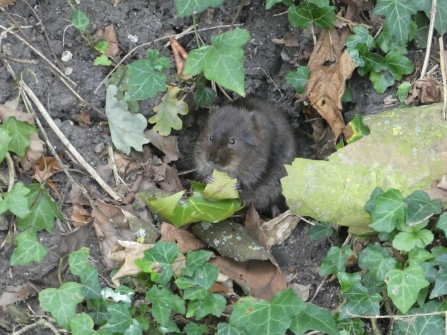 Jesus College Cambridge won the Best Wildlife Sighting at Work award, for its fabulous video footage of a resident water vole taking nesting material into its burrow, a truly rare sight. The judge also highly commended the College for its work in developing the site to encourage wildlife. New features such as a wildlife pond and more wildflowers areas are perfect for encouraging different species into the grounds.
Paul Stearn, Head Gardener, said: "We are thrilled to receive this award as recognition not only for the hard work we put in towards attracting wildlife into the college but also highlight the huge variety of fauna and flora that we manage on site."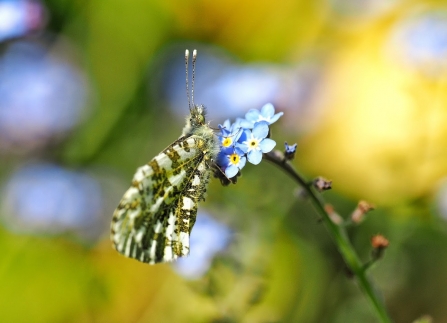 Darren Bast won the award for Best Wildlife Sighting at Granta Park by employees based on the site
Darren's stunning photo of an orange tip butterfly was the clear winner of this award. He said: "This is my first ever competition win. It's photos like this that are worth the hours I put in walking around Granta Park, rummaging in bushes and woodland, as well as the comments from colleagues when I come back covered in bugs, leaves, twigs and mud!"
If you would like advice on how to improve your workplace grounds for wildlife, please contact us for your free wildlife gardening guide.