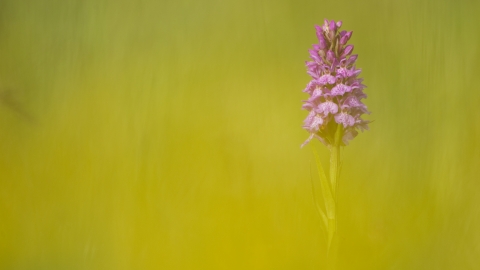 Mix of woodland and grassland in an old ironstone quarry
Know before you go
Entry fee
No
Parking information
Park in side road
Grazing animals
No
Walking trails
Steep steps and narrow paths; some muddy areas
Access
Not suitable for wheelchairs or pushchairs
When to visit
Opening times
Open at all times
Best time to visit
May to August
About the reserve
The name 'The Plens' dates from the 19th century and probably means that the land at that time was flat and ordinary. However, quarrying and a railway line have produced a more varied topography and wildlife habitat. Remains of a railway track can still be seen along the bottom of the cutting, and near the entrance is a large concrete block which formed a loading bay.
The site has a range of different habitats at different stages of succession: grassland, tall herbs, hawthorn scrub, hedges and woodland. A lovely mix of plants grow on the site from the uncommon crimson-flowered grass vetchling to the very common hedge woundwort, with its strong-smelling leaves once used for healing. Grassland species such as knapweeds, vetches and trefoils provide nectar for the large number of insect species which breed here. Elusive orchids and moschatel have been found on the site and badgers, rabbits and voles all live in the undergrowth. Numerous birds use the site with warblers nesting in the scrub.   
Additional information
Scroll down to see the reserve boundary. Please note the boundary map is for indication purposes only and does not show the Wildlife Trusts definitive land boundary. 
FOR ANY MEDIA ENQUIRIES PLEASE CONTACT OUR COMMUNICATIONS TEAM:   communicationsteam@wildlifebcn.org or 01954 713500 and ask for comms team.
Species
Habitat