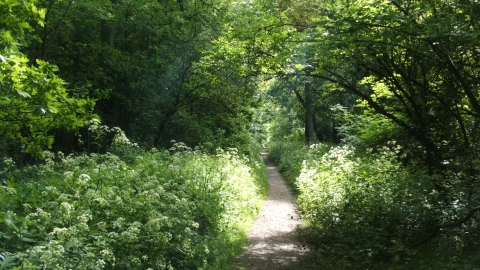 Tree Safety work at Kings Wood: Corby Borough Council have commissioned an independent tree safety survey which has identified the need for some tree safety work to be undertaken within Kings Wood. This work will be carried out by approved contractors, and will commence in July 2018. For further information please contact Corby Borough Council, The Corby Cube, George St, Parklands Gateway, Corby NN17 1QG or telephone 01536 464000.
A small remnant of the once great medieval Rockingham Forest
Know before you go
Entry fee
No
Grazing animals
No
Walking trails
Main rides surfaced and level but area wet and muddy during winter
Access
Unsuitable for wheelchairs 
When to visit
Opening times
Open at all times
Best time to visit
Anytime
About the reserve
As part of the medieval Rockingham Forest, King's Wood - in the centre of Corby - was managed for centuries as a Crown coppice - to provide timber as well as shelter for the King's deer.
Traditional management of the trees by coppicing and pollarding has been restored. More than 250 species of plants have been recorded including wood anemone, dog's mercury, enchanter's nightshade, yellow archangel and wood-sorrel - all characteristic of ancient woodlands.
Birds such as treecreeper, nuthatch, tawny owl and green woodpecker can be seen.
Kings Wood is owned by Corby Borough Council, and managed in a partnership between Corby Borough Council and the Wildlife Trust. The Wildlife Trust carries out habitat improvement works and works closely with the Friends of Kings Wood, an active volunteer group dedicated to caring for the wood.
Scroll down to see the reserve boundary. Please note the boundary map is for indication purposes only and does not show the Wildlife Trusts definitive land boundary.
Habitat
Environmental designation
Local Nature Reserve (LNR)