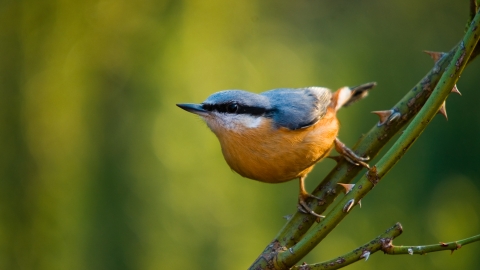 A secluded pool surrounded that provides an important refuge for wildlife
Know before you go
Entry fee
No
Grazing animals
No
Walking trails
Paths uneven and soft; steps and a boardwalk feature. Good paths around the reservoir
Access
Not suitable for wheelchairs or pushchairs
When to visit
Opening times
Open at all times
Best time to visit
March to June
About the reserve
Byfield Pool is owned by the Canal & River Trust, and habitat management and survey work is undertaken on their behalf by the Wildlife Trust.
The pool was constructed as a water supply for the Oxford Canal in the 1790s, while the reservoir was built some hundred years later. It is now a tranquil reserve that is a delightful place to see and hear warblers and wildfowl. It provides wildlife with a much-needed refuge from the activities taking place on the adjacent Boddington reservoir.
Water rail and tufted duck breed on the pool, whilst other ducks rest and feed here. Many other birds nest in the abundant scrub and wooded areas around. Listen out for chiffchaffs and sedge warblers. The quiet waters and surrounding reedbed make this secluded area an excellent site for dragonflies and damselflies, as well as large numbers of frogs and other amphibians.